Silent DJ Victoria
COLLECTIVE JOY DANCE & EVENTS
rentals | outdoor dances | silent discos
View Events
Follow us on Social Media
Silent DJ Victoria offers indoor and outdoor dance experiences in beautiful natural settings. We serve all ages and abilities, including schools, universities, hospitals, cultural groups, community agencies, and the general public.
Large Public Silent Discos
Whole School Dances
Ecstatic Dance
Full Moon Circles & Beach Dances
Silent Disco, Sauna, & Cold Plunge Nights
Guest DJs
Collaborations with Community Groups
Fundraisers
Silent Disco Equipment Rentals: for weddings, birthdays, celebrations, yoga, guided walks, flash mobs, conferences, simultaneous language translation, outdoor movies, any remote off-grid experiences & more…
Come join the village!
Come get out, let loose, connect, and dance with us!
 "The greatest illusion in this world is the illusion of separation." – Albert Einstein
Collective Joy Dance/Silent DJ Victoria was founded in the Fall of 2020, offering twice weekly beach dances throughout the early days of the covid pandemic. It has since evolved to offer large indoor and outdoor silent DJ dances and rentals to schools and community organizations, as well as continuing outdoor dances in idyllic settings.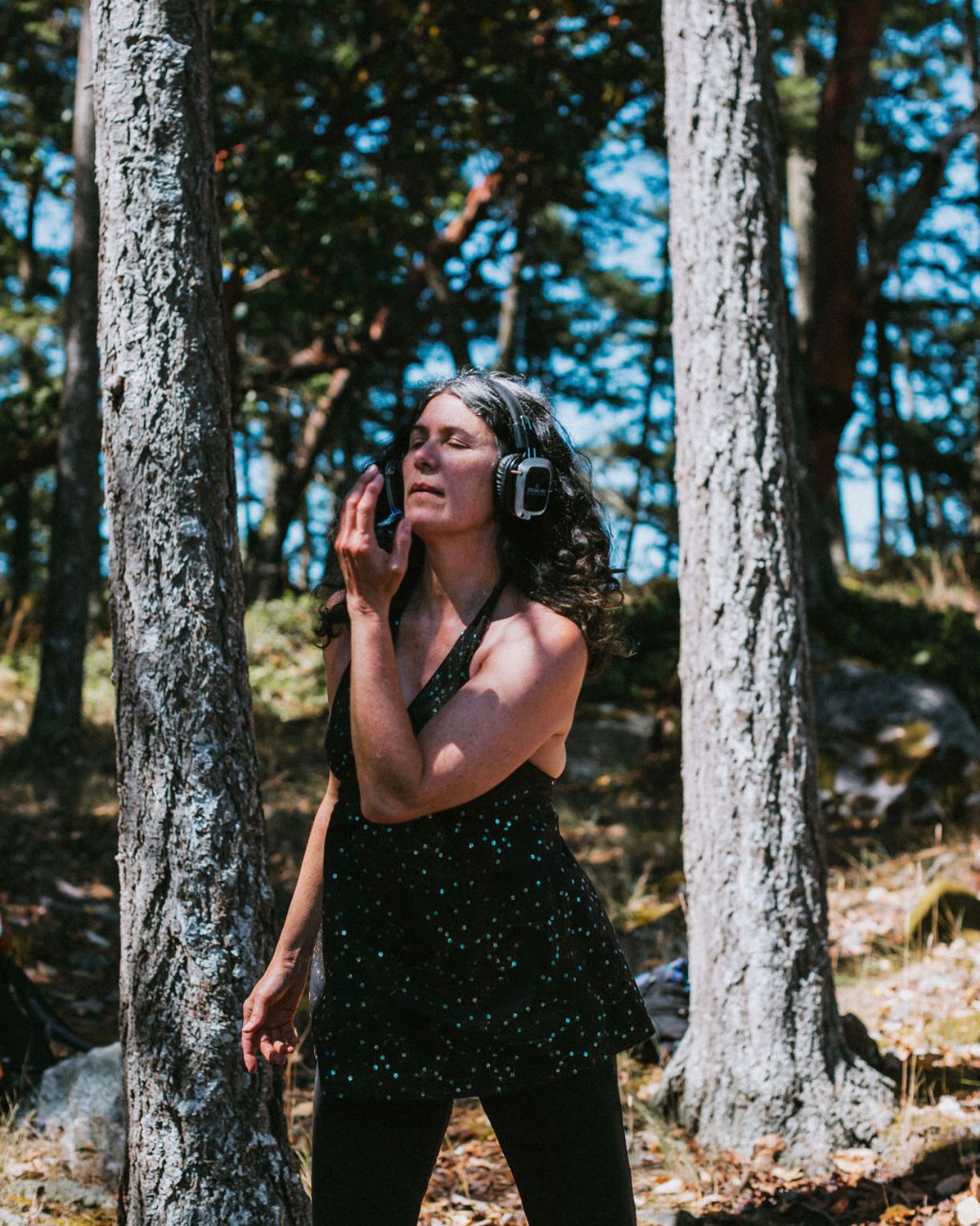 Mary Lloyd, founder of Collective Joy Dance & Silent DJ Victoria, is a passionate community builder, connector, advocate, and fundraiser. Using her collective skills and training, she has woven together dance, community & mindfulness to create events that foster freedom, magic, joy, healing, connection, and space for authentic expression through movement.
She trained as a certified Dance Your Abilities instructor, Dance as Medicine facilitator, and MMTCP-certified mindfulness meditation teacher, studying with Jack Kornfield & Tara Brach. Mary has a B.A. in Psychology, Kinesiology, & Contemporary Dance from Simon Fraser University and is a lifelong dancer with a background in Cecchetti ballet, contemporary dance, Authentic Movement, ecstatic dance, and 5Rhythms® movement meditation. She founded and for over a decade ran the popular postpartum wellness initiative Tinseltots Parent-Babe Movie Matinee. Mary finds refuge in conscious ecstatic dance, mindfulness meditation, circling with others, and time in the wild.
All Together
We are all connected.
We are not alone, though sometimes we forget that. When we dance together we hack happiness chemicals, we release emotions that can get stuck in our bodies, we build resilience, and we create community. A village of embodied souls. Come join the village!
Victoria's First
Silent DJ Outdoor Dance
Soak in the natural beauty, sink your feet into the sand, take in the spectacular view—shake it all out and connect with self, community, and nature! We offer fun outdoor dance gatherings in beautiful places using Silent DJ headsets.
With a little creativity and rugged west coast spirit, we will keep offering spaces to move through the seasons as long as you keep showing up!
All welcome. All ages, genders, abilities, cultures. Let's dance together as one.
Love Yourself
Connecting to self, others, & nature
Come as you are and listen to your body. What it needs and how it wants to move. No dance experience necessary. If you have specific needs we will do our best to accommodate them. We donate a portion of all proceeds to local causes that are important to you.
Headphone & Transmitter Rental
Silent DJ is the perfect choice for "quiet" events indoors & out and for multi-channel, multi-DJ events. Crank the volume; you won't disturb anyone!
"The Downtown Victoria Business Association has had the pleasure of using Silent DJ Victoria for our Lights of Wonder event, Upper Fort Streetfest, and Market Square Fest. It was a great time– and a lot more fun than we'd hoped for. We will be using Mary again and again."
– John Kletke, DVBA
"We at Shawnigan Lake School recommend Silent DJ Victoria if you are looking for something to enhance your party experience. Mary and her equipment really supported the magic of the evening. There was an incredible energy and buzz on campus after the event. It was the first and definitely not the last silent disco that we'll host and enjoy!"
–Blair Sturrock, Shawnigan Lake School Spring Fling
"Last weekend we used these for our party. Absolutely the best headphones I have ever used for silent DJ– comfortable and excellent sound quality. Would definitely use again!"
– Mike Paprocki
"Mary is an absolute gem to work with. She's super helpful and an excellent facilitator. I have been to several of her events as well using her headsets to run events. Cannot recommend Silent DJ Victoria enough!"
– Tristan Rendell, University of Victoria Dance Jams
"That was pure freedom and magic!"
– Kay, after her first ecstatic dance on the beach
"I liked wearing the headphones and I liked the music. I liked dancing to the Move It Move It song. I liked everything… I liked everything too! I felt happy. I felt peace."
– South Park Family School kindergarteners

"At the last minute our venue changed the time our music had to end and these saved the day. Mary was quick to respond and made sure to give us a thorough walk-through of how they work, ensuring that when we brought them out everything would go smoothly. The headsets & transmitter were very user-friendly and Mary even dropped them off and picked them up from our venue, making it a quick & easy addition to our wedding. The headsets worked amazingly and the sound quality was great! We had guests of all ages enjoying the silent disco and leaving it all on the dance floor! I can't say enough great things about renting from Mary at Silent DJ Victoria."
– Virginia Oeggerli
"Sunday night at Willows with Mary was soooo good! Such a gift!! Amazing music and such care to the details, candles & firepot.. And the setting is one of the most beautiful places I have been blessed to visit. I can't wait to go again."
– Shauna Devlin, 5Rhythms® Teacher, Dance Temple SSI facilitator, Dance Your Abilities founder
"That was good medicine."
– Shannon, Massage Therapist
"Thank you so much Magic Mary for this beautiful opportunity to dance 2020 out and welcome 2021 in. I am glad I came and danced my yuckies out. I left feeling a nice lift and shift!"
-Maggie Reidy, therapist
"Mary has been a delight! I have attended her events and also worked with her to set up a pre-wedding celebration. Would highly recommend it."
– Kristen Penhall
"Your dance sessions are truly a gift for me. Last night was amazing."
– Deborah Le Frank
"So grateful for the beautiful music and experience. We'll have to start calling you 'Magic Mary' now!"
– Gale, Beach Dancer
"We are very lucky; thank you for doing this to let us have fun and keep safe. My friend who is a doctor comes and she is really impressed by the protocols you do– and it's a wonderful outlet & release for her to just dance and have fun. This has been really good for my mental and emotional well-being, especially given the type of work I do on the front lines. So thank you from the bottom of my heart. I just wanted you to know you're touching many lives and helping us get through these times til things get better."
– Larry O'Brian, Beach Dancer 2020
"Moving while being so awed by nature is a beautiful experience. How incredible to be connected to other dancers and to the birds and otters and the lapping ocean. I was amazed and blessed by the energy that carried me"
– Mary Jane, BeachDance
"Huge gratitude for the beauty you put into the world."
– Cathy Baker, Gettin' Higher Choir
"These headsets are awesome to have to keep the party going after hours. I've rented them twice now for my backyard birthday party and have been highly satisfied. The sound quality is awesome and we kept the party going for another six hours thanks to these great headsets. Would highly recommend."
– Pallavi Fernandes
"Thank you for putting your time and effort into the silent disco for the grade 4/5 classes of Margaret Jenkins. It was a very good way to spend Earth Day. We appreciated the fact that there were activities for students who didn't want to dance. We enjoyed dancing with the shakers and ribbons. Some of the students enjoyed making driftwood structures and earth art mandalas. This was one of our favourite activities of the entire year. We loved the music; you chose a wonderful playlist. It was very enjoyable and we hope we can do it again soon. You chose the perfect day for it and everybody had a lot of fun!"
– Teacher, Margaret Jenkins Elementary
"I danced for the first time on the beach with a headset in one of Mary's groups this week. I'm a retired physician-professor, visiting my son in Victoria to celebrate his birthday, and he's danced with Mary and her headset audio weekly for many months—raves about it. So, there we were. The public beach was beautiful, and we dancers were unnervingly visible. It took me the first half hour to let go and start to dance. Half way in I was free, dancing with the wind, the waves, connecting to the earth, rock and sky, filling my body and heart with music and beauty, ecstatic tears in my eyes. I'm so very grateful. For my career, I had cultivated appropriate reserve, a careful withholding of public creative expression, vulnerability and passion. It was fantastic to experience letting go, and that I can be creative and self-expressing in public when I choose. And the blend of sound, wind, water and movement was perfect."
— John Hibbs, retired physician-professor
"Things are better than ever. I'm meeting some folks I met at your dance for a barbecue! It all started with the circle I was part of at your beach dance so I am eternally grateful to you for doing these events!"
– Participant
"Mary helped me create a fun & fabulous birthday celebration for my husband. She helped organize the surprise guests and orchestrate an amazing event in a stunning outdoor location overlooking the ocean. We were all connected through sound and had a marvelous time– according to reports, an event they will always remember. It was a pleasure co-creating with Mary. I had a vision and she helped make it real. She has an amazing presence and is all about service from the heart."
– Gale
"When we put our bodies in motion, step out of the ordinary thinking mind and make space for wonder and for new patterns of moving and being, when we gather in circles, connect to the wild, and dissolve our sense of separateness, healing happens and we come home to our place in the family of things."
– Mary Lloyd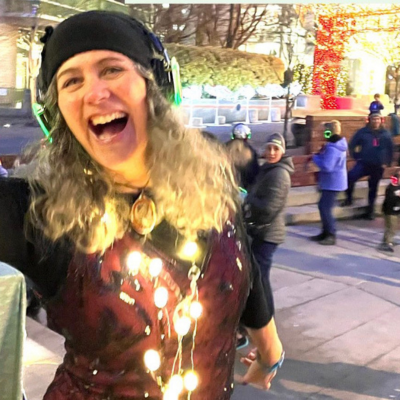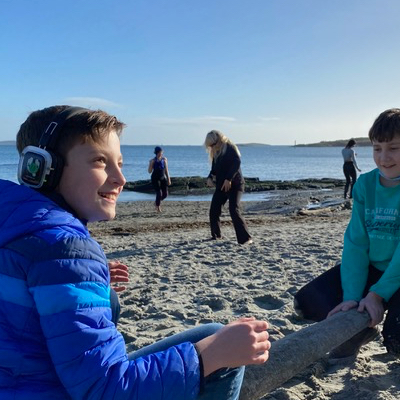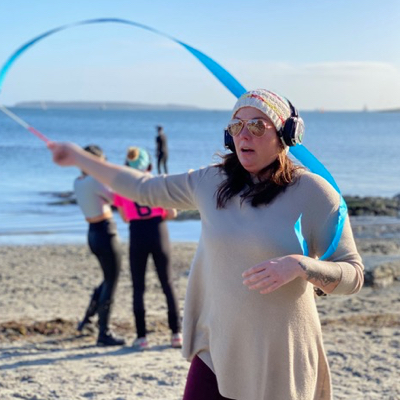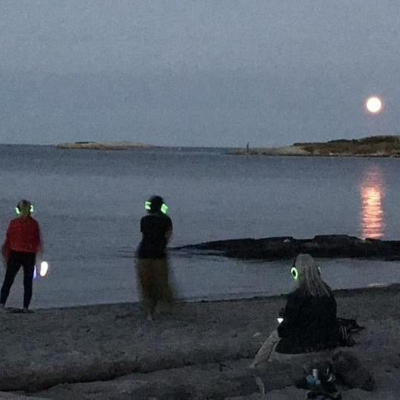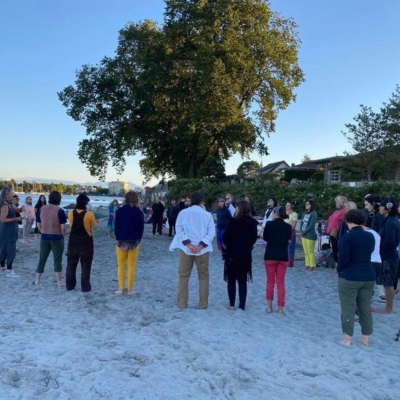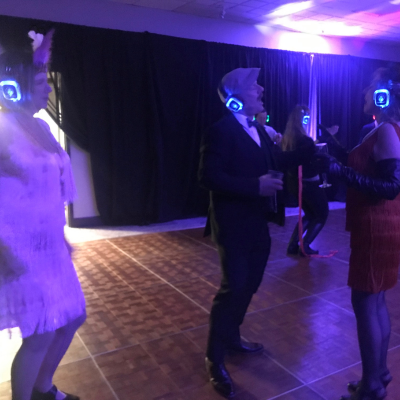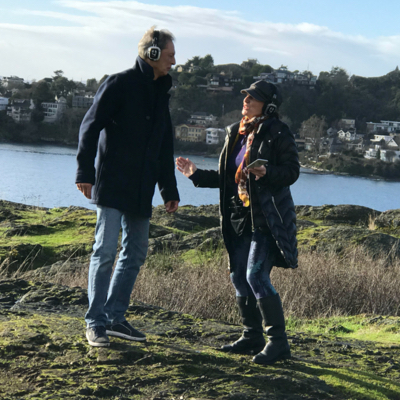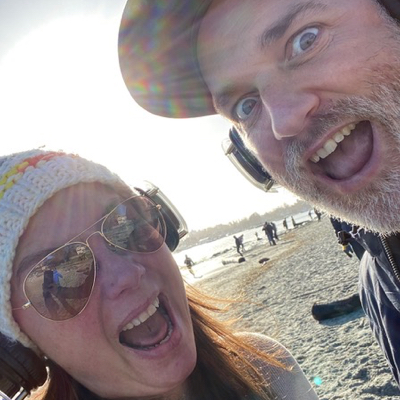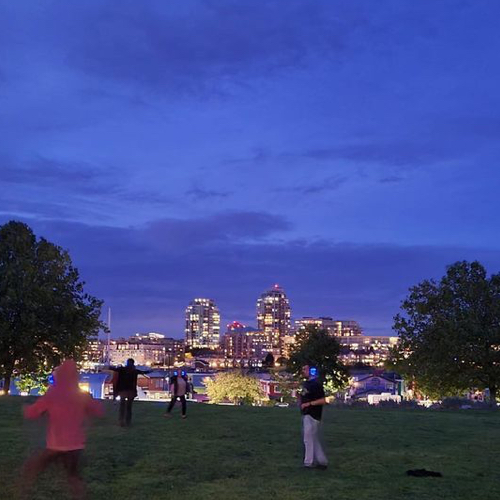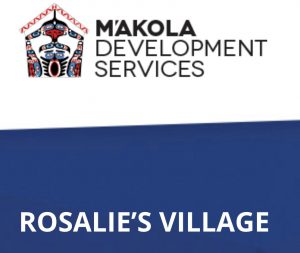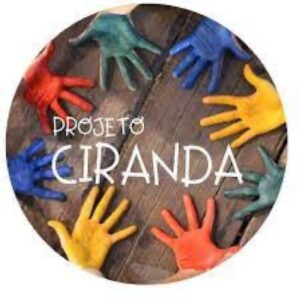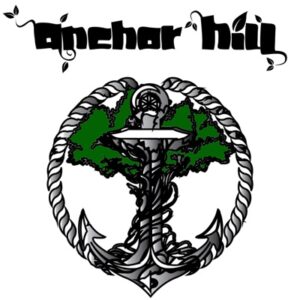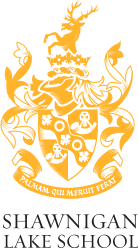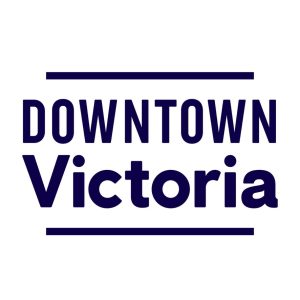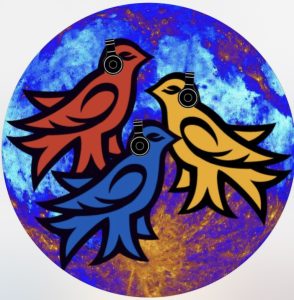 When was the last time you tried something new?
To reserve your spot, etransfer info@silentdjvictoria.com
or pay by credit card on Eventbrite.